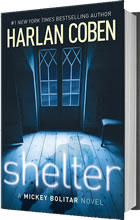 This was a novel I have been excitedly waiting in anticipation for – Harlan Coben's first young adult thriller Shelter… and I wasn't disappointed! Coben is well known for his masterful suspense and plot twists in the best selling adult crime series starring part-time detective Myron Bolitar.
Shelter is the first book in this new young adult series and is a clever spin-off with the protagonist being Myron's nephew Mickey Bolitar (who appeared in his last novel Live Wire). Mickey is fifteen, level-headed, daring, gutsy, and all this with a conscience.
He forms an unlikely trio with unique and very likable side-kicks who assist him in solving the mysterious disappearance of his girlfriend and the cryptic messages from the strange 'bat lady' in his street. Intrigue and mystery spiral out to reveal a complex web of crime solving action that is linked to a major historical event. With moments of laugh-out-loud humour, there are twists, red-herrings, multiple plot lines, and a sense of very real danger. However, the story isn't as dark or sinister as the cover appears to be.
A fast, page-turning, edge-of-your-seat-the-whole-time read with suspense and shades of noir hard-boiled crime.  I thoroughly enjoyed Shelter, and I'm eagerly waiting for the next book in the series. Although pitched at Yr 9/10 readers, this novel will appeal to all young adults, and adults looking for a different fast paced crime mystery. It's the perfect introduction for a life-time love of crime fiction.
Go to the Mickey Bolitar website and watch the book trailer – http://www.mickeybolitar.com/
Book  Blurb:
"Mickey Bolitar's year can't get much worse. After witnessing his father's death and sending his mom to rehab, he's forced to live with his estranged uncle Myron and switch high schools.


A new school comes with new friends and new enemies, and lucky for Mickey, it also comes with a great new girlfriend, Ashley. For a while, it seems like Mickey's train-wreck of a life is finally improving – until Ashley vanishes without a trace. Unwilling to let another person walk out of his life, Mickey follows Ashley's trail into a gritty underworld that reveals that this seemingly sweet, shy girl isn't who she claimed to be. And neither was Mickey's father. Soon, Mickey learns about a conspiracy so shocking that it makes high school drama seem like a luxury – and leaves him questioning everything about the life he thought he knew."
Interested in sharing authors with your daughter?
Recently we've seen a flux of adult crime writers spinning off into young adult territory …
John Grisham author of The Pelican Brief , The Firm and many many more … writes his first young adult novel Theodore Boone: Kid Lawyer. The teenage son of lawyers solves the crimes and mysteries of his classmates. The second book The Abduction has just been released. Yr 7/8.
Kathy Reichs—author of the novel series that have rise to the TV series Bones. Reichs has written her first YA novel Virals starring Tory Brennan, the niece of her print-famous adult protagonist, Temperance Brennan. Crime solving filled with forensic science and action. The second book Seizure has just been released.  Yr 7-9.
James Patterson— branches more into the adventure genre with YA three series—Maximum Ride (urban fantasy), Daniel X (aliens), and Witch & Wizard (fantasy). Yr7-9.
All of the above YA books are available in the College Library.
Happy reading!
Ms Cross.